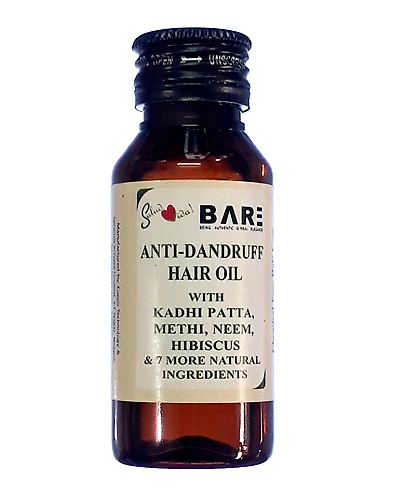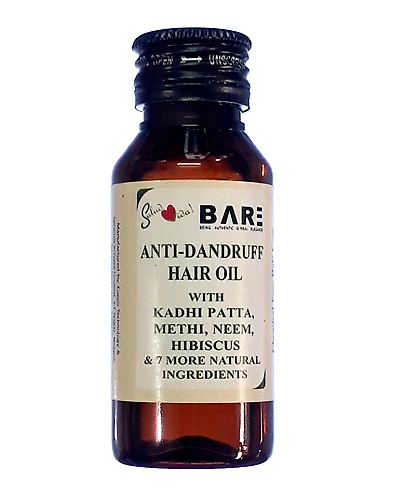 Anti-Dandruff Hair Oil 50 ML
| | |
| --- | --- |
| Brand | B.A.R.E. |
| SKU: | ADHO50 |
| Product Availability | In Stock |
Write a review
This Hair Oil combines a dozen natural ingredients that protect and nourish your hair. It contains the extract of Aawla (India Gooseberry), Shikakai, Curry Leaves, Hibiscus rosasinensis leaves & flower petals, Azadirectin indica (Neem) leaves, Nigella (Kalongi) seeds, Fenugreek (Methi) seeds, Kapoor, Castor Oil, Neem Oil and Coconut Oil.
Billing Information applicable to entire cart (not just this product):
Shipping Charges:
Orders MORE THAN ₹ 300/- = ₹ 0.00
Orders LESS THAN ₹ 300/-
Maharashtra, MP, Goa = ₹ 50.00
Rest of India= ₹ 60.00
CASH ON DELIVERY (COD) = FLAT ₹ 50.00
Additional Information

The hair oil is especially effective in preventing and eliminating dandruff. The anti-microbial and anti-fungal properties of the hair oil keep the scalp and hair roots clean thus enhancing their ability to absorb the oil's nutrients better and promote growth of a healthy mane.

How to Use: Read instructions on the bottle carefully once you get the product in your hands.  

You should always apply the oil on a clean scalp. Dip your fingertips in oil, part your hair and massage the oil on your scalp gently with your fingertips. Cover the entire scalp with the oil using this procedure. You may use a hot towel for better absorption of hair oil, if you prefer. Let the oil sit on your scalp for a minimum time of one day and maximum two days. Wash off your hair and scalp with a mild shampoo. Repeat oiling. If you have severe dandruff problem please keep repeating the process of oiling and cleansing with a mild shampoo till the dandruff disappears. You will get the results within 1-2 applications or 4-5 applications, depending on the severity of the issue. 


For best results, use the oil at least once a week after your dandruff has disappeared, for prevention of further fungal growth.